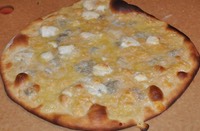 Full recipe makes 4 large thin crust pizzas

5 cups flour
5 teaspoons dry active yeast
2 cups water
1 teaspoon salt


Add yeast to water and let stand 5 minutes. Stir, and begin adding flour. After about half the flour has been kneaded in, add salt. Gradually knead in flour until dough is firm but still quite moist and supple. This may or may not use the full amount of flour, depending upon the current humidity of your kitchen. Place dough ball in a large ceramic bowl lightly coated with olive oil, cover with damp cloth, and let rise for around one hour.
Separate dough on floured surface and knead into four equal balls. Place balls on a baking sheet lightly coated with olive oil and cover with damp cloth. Let rise until ready to make pizza.
In the kitchen: Place pizza stone in oven and set oven to 500℉. Preheat oven for at least half an hour to allow stone to heat sufficiently.  Pizzas will take about 8 minutes to cook each.
On the barbecue: Place baking stone on bricks on grill. Heat to approximately 500℉.  Pizzas may have to be turned half way through due to uneven temperature. Sometimes we use olive wood chips for smoking (optional).